While the Phillips family greatly expanded the hotel's bar and function facilities, they certainly didn't neglect the accommodation. With each successive wave of renovations, bedrooms were gradually removed from downstairs and added or improved upstairs. By the late 1950s, all family and guest rooms were on the first floor.
Don and Brian finished up in Room 8. The Room Eight Club parties were infamous.
Room Eight Club
About 11:45, Don and Brian went over the road to the Star Theatre (which closed at midnight) to pick up a few girls. They also came back with the band.
An unfortunate football team stayed there for some post-season revelry. When they left the following morning, these rowdy footy players said they'd never be back as the pub was too noisy!
Rooms for Rent
Accommodation was another vital facet of Australian pub operation, and indeed it is the origin of the pub's "proper" business title – Australian pubs are usually registered for business under the formal name "hotel", and the more upmarket pubs often reversed this, placing the word "Hotel" before the name (e.g. the Hotel Australia).
('Australian pub', Wikipedia, The Free Encyclopedia, 24 May 2015, viewed 28 June 2015, <https://en.wikipedia.org/wiki/Australian_pub>)
This certainly seemed to be the Dunnes' thinking when they renamed the Union Hotel in 1929 following major renovations focussed on the residential part of the hotel.
'Hotel Australia! The name is usually associated in the minds of the people with the fashionable and commodious premises in the commercial centre of Sydney.
... the mention of the name Hotel Australia will conjure up in their minds visions of the newly renovated and enlarged accommodation house at the corner of Fryers and Maude Streets, Shepparton.
The aim of the proprietresses is to make the premises a popular residential quarters'.
('Hotel Australia', Shepparton Advertiser, 13 May 1929, p. 6, viewed 28 Jun 2015 <http://nla.gov.au/nla.news-article186946866>)
Continuous improvements kept the place looking fresh and helped maintain the steady flow of both lodgers - those who called the pub home - and casuals.
Easter tennis was huge, with not just the Aussie, but everywhere in Shepparton booked out. Some of the many other regulars included the meat inspectors, and the golf ladies who were there a couple of weeks each year. There was also the Ferris Wheel man who would stay at the pub every year at Shepparton Show time. They had to wake him up the night of the fire in October 1971. No one remembers him staying after that.
One of the lodgers was Tom's brother Larry who lived in room 17 for most of 1969. Sadly, Larry had a heat attack in January 1970 and died. Fortunately, his is the only recorded death at the pub.
House of Phillipses
In the early days, the whole Phillips family lived in the hotel. Tom and Sis had the corner room upstairs (room 2) with its own door to access the verandah for the best views. Daughter Rene was in the room next door. Don and Brian were in a timber room on stilts behind the three bedrooms over the saloon bar. As Jack, Reg and Laurie returned from war service, they occupied bedrooms on the ground floor just behind the central stairs.
The Phillips family's living arrangements changed following each wave of renovations and as the children married and moved out. Reg was first to wed, marrying Madge in March 1948, after which they lived at 77 Orr St. Then for a few years they lived in the pub, in room 1 on Maude St next to the corner room, with baby Michael. They moved out soon after Susan was born in 1953 into their newly constructed home in Maude St.
Rene was next to marry, but first to permanently move out, after marrying Keith Barnes in 1951. The couple's friendship developed when Keith was staying at the pub while he was a radio announcer at nearby 3SR.
Laurie closely followed Rene out the door, also in 1951, when he married Lorraine.
Jack moved out the following year when he married Cass.
Don and Marion married in 1958 and soon lived in Old Dookie Rd. They made the pub their home around 1964, when they moved in (room 3) with sons Trevor and Paul (room 1). The family moved out around 1973 to rent a place in Pine Rd before their new Nixon St house was finished.
Brian married Maureen in 1968 and they settled into rooms 8 and 9. Daughter Peta was born while they were there, and the three moved out around 1972 to a house in McCracken St.
When Don and his family moved out around 1973, it marked the first time Tom, now in his early seventies and Sis, in her late sixties, had no immediate family living with them.
Moving Up: Bedroom Renovations
With each successive wave of renovations, bedrooms were gradually removed from downstairs to make way for expanded function facilities. At the same time, upstairs accommodation was added and improved. There were three main waves of renovations that impacted accommodation - in the early 1950s, late 1950s and around 1963.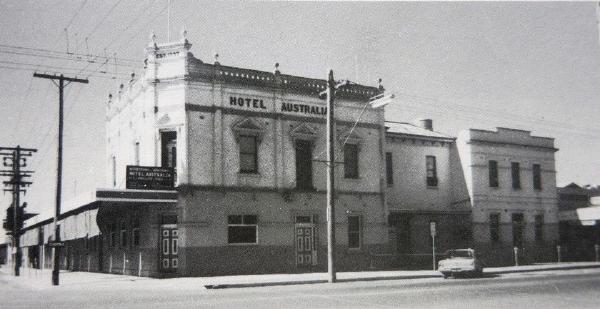 Hotel Australia, Shepparton c. 1963
In 1945, when the Phillips family moved in, there was accommodation for about 26 people (15 upstairs and 11 downstairs) in 17 rooms (11 upstairs and 6 downstairs).
An August 1948 licensing report states:
The hotel is fairly large in a prosperous town. There are ten bedrooms available apart from those occupied licensee, family and staff.
By the time of this report, three eldest boys, Jack, Reg and Laurie had returned from war service and occupied two or three ground floor rooms. The rest of the family occupied three upstairs rooms.
The early 1950s renovations saw the addition of the first floor accommodation wing above a greatly expanded saloon bar. By 1956, this provided accommodation for 38 people (27 upstairs and 11 downstairs) in 23 rooms (17 upstairs and 6 downstairs). Two of the rooms were taken up by Phillips family and three by staff, leaving three rooms for lodgers and 15 rooms for the public.
The late 1950s renovations saw removal of all but one of the downstairs bedrooms, a single dormitory style room for staff. This consolidated all family and guest rooms on the first floor.
Renovations around 1963 saw the first floor central bedrooms recast as self contained units and a main/guest lounge provided. Of the seventeen rooms upstairs, four were now occupied by Phillips family.
A March 1962 licensing report shows that these renovation plans by architect Lynton Bailey also included 18 new bedrooms in a wing over the main public bar. It's probably a good thing that they were never built. Victoria's first 'motor hotel', or motel, opened in Oakleigh in 1957, and the pub would have had trouble competing with all those that followed.
In 1956, the daily rate for a bed and three meals was 40/-, the weekly casual rate was £11/11/-, and for permanents it was £6/10/-. Bed and breakfast cost 25/-.
Residential Staff
Scores of staff were employed over the years for cooking, waiting, cleaning, making beds, laundry, etc. And given there were always family, lodgers or guests staying, staff were required every day of the year and all hours of the day.
May Jones was laundress from the very early days through to the 1970s. She was very popular, especially on a Wednesday night when she'd fill in during cook's night off.
One of May's daughters, Yvonne, married local boxer Max Carlos. Boxing was hugely popular at the time, and was just one of many local activities Tom Phillips supported. In the late 1950s, the Phillips boys would drive down to West Melbourne Stadium (later Festival Hall) on a Friday night to see Maxie fight. They'd then drive home, stopping for a few beers along the way, and somehow manage to front up at the bar the next day.
When May left, a Mrs or Miss Bowe did the laundry.
Winnie Grace was a housemaid for many years in the 1950s and 1960s. Several of the staff who worked upstairs on the rooms also worked downstairs. Like Sue Petts who was also a waitress, and Doris Scripps who was also a kitchen hand. Janis was a cleaner, so would also have worked both upstairs and downstairs.
After starting out as a waitress, Cynthia Lewis moved upstairs when her children got older. Not long out from Northern Ireland, Cynthia applied for the job but wasn't confident and openly stated she had no experience. But Marion saw her potential, and Cynthia didn't disappoint. Years later Cynthia said that her time working in the pub was like 'being in one big family'. Her children would come and play with Trevor and Paul in the pub sometimes when she had no one to look after them. When the pub sold in 1979, she continued to work there for a short time, but was less happy with the new owners than the Phillips family. Cynthia very soon started working for Tom and Sis who had moved to a flat in Corio St.
The Boots and the Yardman
Back in the olden days, people who stayed at a hotel or inn invariably wore boots. They left them outside their room at night to be cleaned by the 'Boots'. The Boots was later employed for general portering duties, assisting waiters, and general yard duties. Hence his other name, 'Yardman'.
In the early days, Ron Maloney, aka 'Booligal', did some yardman duties. Some of the other Boots/Yardmen recalled over the years were Clem Altera, Sid Scheggia and Paddy Doyle's father. Every summer, when Sid was on holidays, Paul Phillips and Luke Mardling would fill in for him - a pair of boots?
After dining, those staying at the pub might retire to the lounge or head down to have a quiet beer and a chat with the locals in Jack's Bar.
Next chapter: Jack's Bar and the House of Phillips
Previous chapter: Weddings, Parties, Anything
Home: House of Phillips